Communicate Without Boundaries
Your network. Your team. Connected like never before. Unify team communications with WAVE OnCloud. Enable instant push-to-talk communications across workgroups on any number of networks, devices, apps, cities and facilities for enhanced safety, efficiency and productivity. Plus, enjoy easy set-up, predictable costs and a flexible subscription model.
Read how broadband push-to-talk with WAVE OnCloud can improve your bottom line.

IMPRES™ 2 Batteries
First responders, public works employees, and other professionals know that shifts aren't getting any shorter. Thankfully, you can keep your people connected even longer. IMPRES 2 batteries deliver higher capacity without an increase in size. All IMPRES 2 batteries share the same IP68 rating as APX radios, which means they can be fully submersed in two meters of water for up to four hours. Designed with a rugged housing, they're as tough as the radios they power. IMPRES 2 batteries, when combined with an IMPRES 2 charger, deliver 60% more charging cycles than traditional Lithium Ion batteries.
Download the IMPRES 2 Datasheet

MOTOTRBO™ IP Site Connect
The IP Site Connect digital solution uses the Internet to extend the coverage of your MOTOTRBO communication system no matter where you're located. You can communicate easily among geographically dispersed locations across the city, state or country.
You can create wide area coverage and automatically roam from one coverage area to another with no manual intervention. Or you can enhance coverage at a single site like a high-rise building that contains physical barriers. IP Site Connect enables you to extend the voice and data communication capability of your workforce beyond the levels two-way radio has achieved before. This means dramatically improved customer service and increased productivity.
Learn More about MOTOTRBO IP Site Connect
FMCSA & PHMSA COMMERCIAL DRIVER CELL PHONE BAN
Mobile Phone Restriction Rule For Commercial Motor Vehicle Drivers
The FMCSA and the Pipeline and Hazardous Materials Safety Administration (PHMSA) have published rules specifically prohibiting interstate truck and bus drivers and drivers who transport placardable quantities of hazardous materials from texting or using hand-held mobile phones while operating their vehicles. The joint rules are the latest actions by the U.S. Department of Transportation to end distracted driving. Violations can result in fines and/or driver disqualifications and will impact a motor carrier's and/or driver's Safety Measurement System (SMS) results.
Overview And Background
The FMCSA rule restricts the use of all hand-held mobile devices by drivers of commercial motor vehicles (CMVs). This rulemaking restricts a CMV driver from holding a mobile device to make a call, or dialing by pressing more than a single button. CMV drivers who use a mobile phone while driving can only use a hands-free phone located in close proximity.
Fines, Penalties, And Disqualification
Using a hand-held mobile phone while driving a CMV can result in driver disqualification. Penalties can be up to $2,750 for drivers and up to $11,000 for employers who allow or require drivers to use a hand-held communications device while driving. Multiple violations of the prohibition of using a hand-held mobile phone while driving a CMV can result in a driver disqualification by FMCSA. Multiple violations of State laws prohibiting use of a mobile phone while driving a CMV is a serious traffic violation that could result in a disqualification by a State of drivers required to have a Commercial Drivers License.
We Can Help You Avoid Fines And Penalties And Comply
Motorola's MOTOTRBO digital two-way radios are the preferred choice for businesses and organizations that need to safely and efficiently connect with their mobile workforce. MOTOTRBO complies with US DOT, FMCSA and PHMSA regulations.  
Read more about the FMCSA & PHMSA Commercial Driver Cell Phone Ban

Smarter Radios Mean Smarter Operations And Improved Team Communications
Already delivering better voice communication, digital radio systems are also paving the way for data—the real game changer. The latest generation of digital radio systems such as MOTOTRBO™ continue to deliver the push-to-talk instant communication that everyone expects—but now with data connectivity bringing text messaging, Bluetooth® connectivity, GPS awareness and Wi-Fi® to the front lines.
Download the whitepaper to learn how you can enhance team communications and improve the real-time flow of information, ideas and decisions that drive efficiencies and improve collaboration across your business with customized applications that fit every situation.
Learn more about Team Communications
Download the White Paper: Data On Two-Way Radio Systems
10 Tips In Improve Your Two-way Radio's Battery Life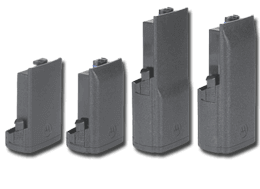 Battery life is important to every two-way radio user. Following these simple care instructions can help protect your rechargeable batteries and enhance their performance and useful life. Motorola brand rechargeable batteries are designed and precisely manufactured by Motorola to ensure optimum portable radio performance.
View 10 Tips In Improve Your Two-way Radio's Battery Life