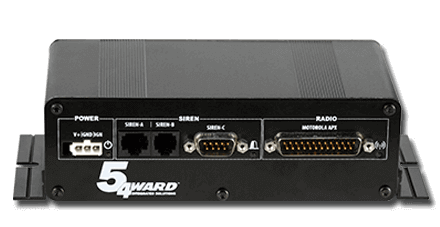 Motorola Solutions
APX Mobile Radio Siren And Lights Interface Module
Emergency vehicles are a complex environment. Loaded with specialized equipment and controls, it's not easy to know where to look. An overloaded cockpit can lead to user distraction in critical moments. Motorola Solutions has collaborated with Futurecom Systems Group, ULC to deliver the Siren and Lights Interface Module (SLIM).
The SLIM creates a single touch point to operate all mission-critical equipment in an emergency vehicle. It enables APX™ control heads to operate light bars and sirens while also delivering a common microphone for PA and radio communications. Now you have a cleaner, simpler workplace that provides a safer and more efficient emergency vehicle experience.
Simple and compact, the SLIM module is installed in the trunk of the vehicle, where it interconnects the APX mobile radio with products from most of the leading lights and sirens manufacturers.
Request A Quote
Ease Of Installation
Connects to APX mobile with 1 cable. Connects to OEM sirens with 1 or 2 cables.
P25 TDMA Capable Two-Way Mobile
Compatible with APX 8500, APX 6500 and APX 4500 mobile two-way radios.
Support For Third-Party Siren And Light
Compatible with Code 3®, Federal Signal, Whelen® Engineering
Control Head Compatibility
Compatible with APX O7 and O3 control heads.
Quick Set-Up
USB Programming utility available.
Consolidates PA Audio
Supports single microphone for two-way audio and PA audio.
Inputs/Outputs

4 dedicated inputs for auxiliary functions.
Allows specific radio function to operate from steering wheel control (if equipped)
Allows specific radio functions to operate from vehicle OEM sensors
4 dedicated outputs for auxiliary functions
Expands APX VIP options
Data Sheet