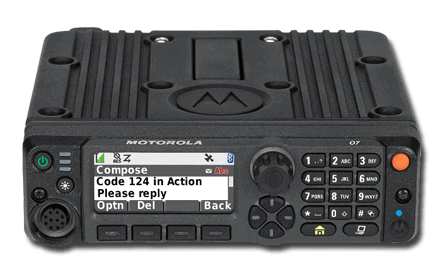 Motorola Solutions
APX 4500 Enhanced
You need a P25 radio to communicate and collaborate effectively with other P25 radio users. And, you need the performance and reliability of an APX™ radio. That is why we built the APX 4500 single-band mobile radio.
Everyone has something to like with the APX 4500. We've paired it with our rugged O2 Control Head for confident, reliable radio communication that can stand up to everyday use.
The compact form factor simplifies vehicle installation. Integrated hardware encryption protects your mission-critical communication. Impact detection automatically alerts dispatch to keep its users safer and integrated Wi-Fi helps to keep you current with fast and easy software updates. Integrated Bluetooth provides wireless communication with Commercial off the shelf (COTS) Bluetooth accessories.
Improve your operational efficiency with the performance and reliability of the APX 4500 mobile radio.
For APX 4500 on UHF Range 2 click here
Frequency Band:
VHF, UHF-1, 700 MHz, 800 MHz, 900 MHz
Frequency Range:
700 MHz (764-776 MHz and 794-806 MHz)
800 MHz (806-824 MHz and 851-870 MHz)
VHF (136-174 MHz)
UHF Range 1 (380-470 MHz),
900 MHz (896-902 MHz and 935-941 MHz)
Power Output:
700 MHz: 10-30 W, 800 MHz: 10-35 W,
VHF: 10-50 W
UHF Range 1: 10-40 W
900 MHz: 1-30 W (896-901 MHz and 935-940 MHz); 1-3 W (901-902 MHz and 940-941 MHz).
Number of Channels/Groups/Zones:
512 Channels
Channel spacing:
6.25, 12.5, 25
Dimensions H x W x D
2.0 x 7.0 x 9.6 inches
Weight
7 lbs.
Display
Alphanumeric
Operating temperature

Mil spec
810 C, 810 D, 810 E, 810 F, 810 G
IP Standards
IP56
Request A Quote
GENERAL SPECIFICATIONS
Channel Capacity: 512 standard, expandable to 1,000 channels
Encryption Algorithms: ADP, 256-bit AES
OPERATING MODES
Digital Trunking: 9600 Baud APCO P25 Phase 1 FDMA and Phase 2 TDMA
Analog Trunking: 3600 Baud SmartNet®, SmartZone®, Omnilink
Digital Conventional: APCO 25
Analog Conventional: Analog MDC 1200, Quik Call II System Configurations
MANAGEMENT
Customer Programming Software (CPS)
Radio Management
Over-the-air Programming (OTAP)
INTEGRATED Wi-Fi AND DATA CONNECTIVITY
Wi-Fi (2.4GHz), 802.11 a/n/ac (5GHz) with up to 20 Wi-Fi networks provisioned in the radio
Data Modem Tethering
ASTRO 25 Integrated Voice and Data
Enhanced Data
Integrated GPS/GLONASS for Outdoor Location Tracking
Mission Critical Geofence
Personnel Accountability
Bluetooth (Version 4.2)
SECURITY
P25 Authentication
Software Key
Single-key ADP Encryption
Multikey for 128 keys
Brochures
Solution Briefs
Spec Sheets
Fact Sheets
Antennas
VHF Antennas (RF Only)
HAD4006

VHF 1/4 Wave Antenna, 136-144 MHz

HAD4007

VHF 1/4 Wave Antenna, 144-150.8 MHz

HAD4008

VHF 1/4 Wave Antenna, 150.8-162 MHz

HAD4009

VHF 1/4 Wave Antenna, 162-174 MHz

HAD4016

VHF 1/4 Wave Antenna, 136-162 MHz

HAD4017

VHF 1/4 Wave Antenna, 146-174 MHz

HAD4021

VHF Wideband Antenna, 136-174 MHz

HAD4022

VHF Wideband Antenna 3.0 dB Gain, 136-174 MHz

RAD4010ARB

VHF Wideband Antenna 3.0 dB Gain, 136-174 MHz
UHF Antennas (RF Only)
HAE6012

UHF 1/4 Wave Antenna, 380-433 MHz

HAE4003

UHF 1/4 Wave Antenna, 450-470 MHz

HAE4004

UHF 1/4 Wave Antenna, 450-470 MHz

HAE4012

UHF 3 dB Gain Antenna, 450-495 MHz

HAE4013

UHF 3 dB Gain Antenna, 494-512 MHz

HAE6010

UHF 3.5 dB Gain Antenna, 380-433 MHz

HAE4011

UHF 3.5 dB Gain Antenna, 450-470 MHz

HAE6011

UHF 5 dB Gain Antenna, 380-433 MHz

RAE4014ARB

UHF 5 dB Gain Antenna, 455-470 MHz

RAE4016ARB

UHF 5 dB Gain Antenna, 494-512 MHz

HAE6013

UHF 2 dB Gain Wideband Antenna, 380-470 MHz

HAE6015

UHF 2 dB Gain Wideband Antenna, 450-512 MHz

HAE6031

UHF 2 dB Gain Wideband Antenna, 380-520 MHz

HAE6016

UHF Wideband Low Profile Antenna, 450-512 MHz
700/800 MHz Antennas (RF Only)
HAF4016

1/4 Wave Antenna, 762-870 MHz

HAF4013

3 dB Gain Low Profile Antenna, 762-870 MHz

HAF4014

3 dB Gain Elevated Feed Antenna, 762-870 MHz

HAF4017

3 dB Gain Collinear Antenna, 762-870 MHz
GPS Antennas
HAG4000

GPS Roof Mount Antenna SMA Male connector with RG-174 17ft cable

PMAN4001

GPS Glass Mount Antenna SMA Male connector with RG-174 17ft cable
Control Station Accessories
HLN6042

Desktop Tray with Speaker

HPN4007

Power Supply, 25-60W, for low power radios (cord included)

3060665A04

110V Line Cord, Replacement Cable for HPN4007
Installation, Cables and Mounting Accessories
HLN7003

High Power Trunnion Kit; Quick Release with Lock

HLN7002

Mid Power Trunnion Kit; Standard Installation Bracket

HLN6372

Mid Power Trunnion Lock

HKN6186

Remote Mount Control Head Trunnion Compatible with 02/05 and 07 control heads.

HLN7031

Low Profile Remote Mount Control Head Trunnion Kit

HLN7022

Motorcycle Enclosure, Black
Cables
Control Head Cables
PMLN4958

O3 Handheld Control Head Extension Cable, 17-Feet

PMLN4959

O3 Handheld Control Head Accessory Cable

HKN6187

Control Head Cable with Connections for Power, Speaker and Headset Jack

HKN6188

Control Head Cable with Connections for Power and Speaker
Remote Mount Cables
HKN6164

Remote Mount Cable, 131-Feet

HKN6165

Remote Mount Cable, 115-Feet

HKN6166

Remote Mount Cable, 75-Feet

HKN6167

Remote Mount Cable, 50-Feet

HKN6168

Remote Mount Cable, 30-Feet

HKN6169

Remote Mount Cable, 17-Feet

HKN6170

Remote Mount Cable, 10-Feet

HKN6196

Cable, Remote Control Head Vehicular Interface Port Connector for O5 Control Head

HKN6961

Cable, Remote Control Head Mobile Accessory Port Connector for O5 Control Head
Power Cables
HKN4191

Mid Power, Dash Mount Power Cable, 10-Feet

HKN4192

Mid Power, Remote Mount Power Cable, 20-Feet

HLN6863

Mid Power, Rear Ignition Cable, Dash Mount

HKN6110

High Power, Remote Mount Power Cable 20-Feet

HKN6032

Motorcycle Power Cable
Data Cables
HKN6160

RS232 Cable for Rear Accessory Port, Dash Mount Only, 6-Feet

HKN6161

RS232 Cable for Rear Accessory Port, Remote Mount Only, 20-Feet

HKN6183

RS232 Cable for Mobile Microphone Port

HKN6122

RS232 Cable for J600 Transceiver Interconnect Board, 22-Feet
Keyload Cables
TKN8531

Keyloader Cable, KVL3000 and KVL4000

HKN6182

Keyload Adapter for Mobile Microphone Port
External Alarm Accessories
HLN6953

External Alarm Buzzer

HLN6969

External Alarm Relays
Microphones and Audio Accessories
HMN4079

Keypad Microphone

HMN1090

Standard Palm Microphone

HMN1089

Water Resistant Palm Microphone

HMN1079

Water Resistant Palm Microphone for Motorcycle Mounted Mobiles

HMN4097

Telephone Keypad Handset with Hang-Up Cup

HKN1018

Hang-Up Handset with Armored Cable

HLN1457

Handset with Hang-Up Cup

RMN5070

Desktop Microphone

RMN5054

IMPRES Visor Microphone, requires PTT Switch GLN7278 or RLN5926
Mobile Microphone Accessories
HLN5391

Microphone Hang-Up Clip

PMKN4093

Microphone Extension Cable, 2-Feet.

Not compatible with HMN4097 handset or HMN4079 Keypad

PMKN4033

Microphone Extension Cable, 10-Feet.

Not compatible with HMN4097 handset or HMN4079 Keypad

PMKN4034

Microphone Extension Cable, 20-Feet.

Not compatible with HMN4097 handset or HMN4079 Keypad

HLN5131

Emergency Push Button, can be used with the Visor Microphone

HLN5113

Emergency Footswitch, can be used with the Visor Microphone

GLN7278

Footswitch Push-To-Talk, can be used with the Visor Microphone

RLN5926

Push Button Push-To-Talk, can be used with the Visor Microphone

3075336B10

Replacement Cable for HMN4079
Public Address and Speakers
HSN4038

Remote Mount, Water Resistant Speaker, 7.5 Watt Rated Audio

HSN4040

Remote Mount, Water Resistant Speaker, 15 Watt Rated Audio

HSN4018

Water Resistant Speaker, 13 Watt Rated Audio

HSN4032

Non-Water Resistant Speaker, 13 Watt Rated Audio

TDN6251

Siren Speaker, Round with Chrome Finish

TDN6252

Siren Speaker, Rectangular with White Finish

TDN6254

Siren Speaker, Round with Grey Finish

TDN6253

Siren Speaker, Under Hood with Grey Finish
Siren Accessories
H1338

Status/Message Direct Entry Keypad, 8 Buttons

HLN1439

Mobile Siren

HLN6819

Siren Switchbox

H1615

Mode Direct Entry Keypad, 8-Buttons

HKN6146

Siren Cable, O3 Siren to Switchbox

HKN6145

Siren Cable, Direct Keypad for O3 Control Head

HKN6189

Direct Entry Keypad Cable, DEK to O5 Control Head, rear connector

HKN4363

Siren Cable, O5 Siren to Switchbox
Universal Relay Controller
PMUN1046

Universal Relay Controller for O9 Control Head, 10 DC Outputs, 15 Amps per Channel

3064153H05

Universal Relay Controller to Transceiver Cable
Wireless Bluetooth® Accessories
RLN6551

Long Range Wireless Mobile Accessory Kit, includes Wireless Remote Speaker Microphone (RLN6544), Mobile Microphone Bluetooth Gateway (PMMN4097C), Vehicular Charger (PMMN6716)

RLN6552

Long Range Wireless Mobile Accessory Kit (No Power Charger), includes Wireless Remote Speaker Microphone (RLN6544), Mobile Microphone Bluetooth Gateway (PMMN4097C), Charger must be purchased separately